Neck & Chin Liposuction in Annapolis, MD
Liposuction of the neck and chin removes excess fat from the area below the face, giving definition to the jawline, contouring the neck, and eliminating a double chin. It's a simple procedure that's popular with younger patients whose skin has the elasticity to contract and tighten after fat removal.
If you feel that fat in your neck makes you look heavier than you are, find the appearance of a double chin bothersome, or wish you had a more defined jawline, liposuction could be the solution. The procedure takes less than 30 minutes and the results are permanent.
If your skin lacks the elasticity to tighten naturally after liposuction, a lower facelift or neck lift may be the answer.
Drs. Sandel and Duggal have extensive experience in performing facial and body contouring procedures. They have built a reputation for their beautifully customized and natural results. Contact us today to schedule a consultation in Annapolis.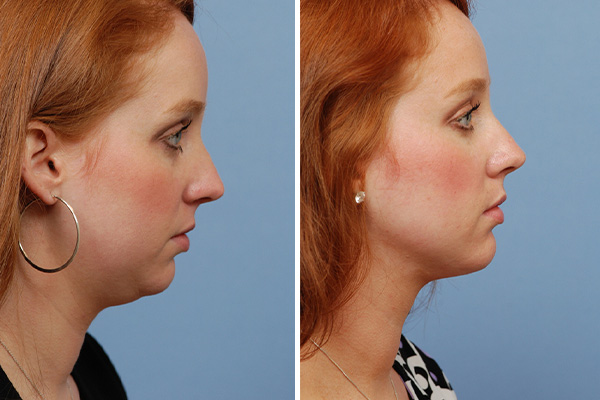 What Is Neck and Chin Liposuction?
Liposuction is a minimally invasive procedure that uses small cannulas (thin surgical straws) to remove unwanted fat from areas of the body. On the chin and neck area, it can refine the contours of the face. Taking excess fat from the chin, jowls, or neck can transform the appearance of the face, making a person look younger and thinner and restoring balance to facial features.
Why Might I Consider Neck & Chin Liposuction?
Neck and chin liposuction can:
By slimming the chin and neck, liposuction transforms the appearance of your face. It can make you look younger, thinner, and healthier. It balances your facial features to shift attention to your eyes and upper face.
Am I Good Candidate for Neck or Chin Liposuction?
The best candidates for neck and chin liposuction are close to their ideal body weight and have firm, elastic skin that will tighten after the excess fat is gone. In your consultation, Drs. Sandel and Duggal will examine you to determine if the pockets of fat on your chin and neck are ideal for removal with liposuction and if your skin has the elasticity to contract smoothly and evenly over the slimmed contours.
As with any plastic surgery procedure, candidates should be in good health. Specific medical conditions put patients at higher risk of complications. If you smoke, you will need to be tobacco-free for a period before and after the procedure.
How Is Neck and Chin Liposuction Done?
We perform neck and chin liposuction in our West Annapolis Surgery Center. It usually takes about 30 minutes. First, we use a local anesthetic to numb the skin in the area of the procedure. Then, we make incisions under the chin and behind the ears. We insert a small suction tube to separate and remove the excess fat and tighten the overlying skin. Finally, we close the incisions with fine sutures to minimize scars.
You'll be able to go home after the procedure. If your procedure involves sedation, you'll need to arrange ahead of time for someone to drive you.
What to Expect in Recovery
You'll have a light cotton wrap in place for support the first night after the procedure. You may experience some swelling and mild bruising for the first few days. Minimize these side effects with ice and by keeping your head elevated. You may have a chin-compression garment to wear for the first week and at night for another week or two after that. After seven days, you'll return to our office to have the sutures removed.
You'll see the effects of the procedure the first day after you remove the cotton wrap. The results will improve over the next few weeks as any residual swelling disappears and the tissue settles into its new position. Most patients return to work three to five days after the procedure — a bit longer if their job is physically demanding. You'll be able to resume all your normal activities, including strenuous exercise, after about two weeks.
Neck and Chin Liposuction FAQs