Cheek Augmentation in Annapolis, MD with Dr. Sandel
Cheek implants and other forms of cheek augmentation are a way to add fullness and definition to the upper face. Whether your cheeks have lost volume with age or you've always had thin, flat cheeks, cheek augmentation can enhance your facial contours and give you a younger, more attractive look. A subtle change to your cheeks can shift the focus of your facial features, drawing attention to your eyes.
Cheek implants can also be used to restore a more natural facial appearance after injury or illness, and to bring an asymmetrical face into balance.
Dr. Henry Sandel has extensive experience in performing cheek augmentation and other aesthetic facial procedures. They have earned a reputation for their beautifully customized and natural results. Contact us today to schedule a consultation in Annapolis. 
Cheek implants are solid devices, typically made of medical silicone, that your plastic surgeon will place in the upper cheek to accentuate the cheekbones. In some cases, a surgeon may use other materials that bind directly with the cheekbones.
Silicone cheek implants are permanent. Through long use, they have established a track record of safety. But you can get them removed if you ever change your mind about having them.
Other Methods of Cheek Augmentation
Fat Grafting
Dermal Fillers
Fat Grafting
In fat grafting, your surgeon will remove excess fat from one part of your body using liposuction, then process it for injection where you desire added volume, such as your cheeks. Fat grafting has the advantage of using your tissue for the augmentation. Pairing it with liposuction also allows you to have unwanted fat from an area such as your belly or hips. Fat grafting results are typically long-lasting.
Dermal Fillers
Why Might I Consider Cheek Implants?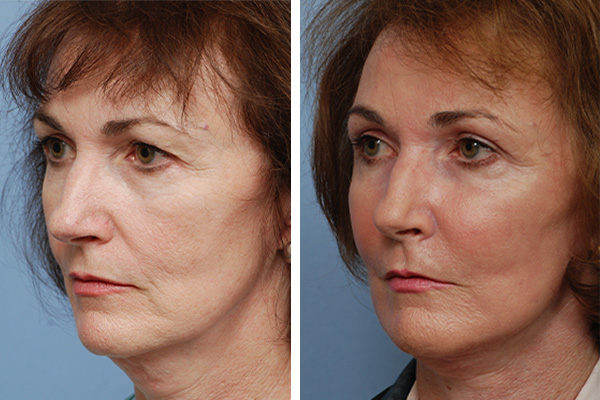 What Happens in a Cheek Implant Procedure?
A surgeon will place cheek implants while you are under either a local anesthetic or general anesthesia. It is an outpatient procedure that often takes less than one hour. Your doctor will place incisions inside your upper lip and cheek, or sometimes inside the eyelid, so no visible scar remains. Then, they will insert the implants and secure them onto the cheekbones.
Your surgeon will select the implant shape to create the desired contours for your face, and they may also shape the tissue around the implant as part of the procedure. In some cases, they will use a bone-filler paste is used, which is moldable to a customized shape. Having placed and secured the implants, your surgeon will close the incisions with absorbable sutures.
Cheek augmentation using fat grafting is also an outpatient procedure. Your surgeon will make small incisions in the "donor" area, then insert the liposuction cannula to break up and suction out the excess fat. The fat gets broken down in a special process for injection into the cheeks.
Cheek augmentation using injections of dermal filler is an in-office procedure requiring no incisions.
What to Expect in Recovery
After cheek implant surgery, you can expect some temporary swelling and bruising. The swelling will be less noticeable after a week, but some residual swelling can last for up to six weeks. Because you will have sutures inside your mouth, you'll need to eat soft foods for the first few days and use a mouth rinse. The sutures will dissolve within 10 days after surgery. You'll be able to resume normal activities in a few days.
After fat grafting, the area where you got liposuction will have some bruising and swelling for the first few days. Some residual swelling can last for up to six weeks. You'll also have some swelling in your cheeks for the first two or three days. Because some of the injected fat gradually shifts away from the injected area, you may at first think your doctor has grafted too much fat into your cheeks. They will settle to their final proportions within two or three weeks.
After dermal filler injections, you may experience some minor bruising and swelling for one or two days.